Media introduction/publication, lecture information
-Introduction to the media and information posted-
<2019>
■ Matsuyama Keizai Shimbun "Matsuyama city apparel shop "DD4D" has a craft beer brewery"
■ The Sankei Shimbun "DD4D BREWING" will pre-sell the craft beer "Barley wine using naked barley from Ehime Prefecture" that can be aged to your liking at Makuake! "
■ excite news "There is no expiration date! Beer "Barley Wine" that you can enjoy together is now on pre-sale at Makuake"
■ Family Business Aid MAGAZINE

■ Cuisine Kingdom "Delicious Japan Rediscovered in Ehime"

■ Ehime Shimbun "Online Drinking Party" Enjoyed at Home
(The online drinking party was broadcast and posted on NHK, Nankai Broadcasting , Ehime Asahi TV, and Kyodo News.)
■ We started snacks of "KitKat"! ``KitKat Snacks'' to be released on Monday, July 20 ~Development of original craft beer using ingredients from ``KitKat"~
( Nikkei , Mynavi , JAPAN TODAY , FOODBEV MEDIA , Famitsu , Wine Kingdom , and many others)


■ IRC Monthly 32nd THE person who creates the future of the region
Weekly Economist "10 selections of craft beer to enjoy drinking at home"
■ TV Ehime "[Feature] Birth of original beer using lemons from Kushima, Uwajima City!"
■ TV Ehime "Challenging beer brewing in the middle of Matsuyama!"
A fantastic collaboration with a direct descendant of Admiral Perry! Kurofune Beer has arrived!
(Wine Kingdom, JIJI.com, Excite News, Kawasaki Keizai Shimbun, and many others)
Jalan Sake Travel Book 2021 Preservation Version
■ BRUTUS " Let's talk about beer !"
■ Yahoo! News "Popular in the United States and Taiwan Beer made with honey from Iyo City! Collaboration between producers and breweries (Ehime)"
■ BEAMS×DD4D "Brewing culture from Harajuku.Original craft beer created by fashion creators"
■ NHK Himepon! ! "Craft beer to the world"
-Lectures and Appearance Information-
■ Ehime University "Machinaka University "How to open a small place""

■ Graftpreneur pours beer without inheriting the family business

■ Inspired Lab (guest speaker)
Nankai Broadcasting Radio "President's Mikata" October 27th and November 3rd Guest
■ Ehime Youth Support Station "This is your dream work guide"
Yawatahama Junior Chamber "Learning about town development from craft beer brewers"
■ EGF Cooperation Seminar (Ehime Industrial Promotion Foundation)
■ NOIL Innovators' Talk ~From office worker to craft beer brewer!~

■ Airbnb Online Cherry Blossom Viewing (Guest Speaker)
■ MIDORI.so "Good relationship between microbreweries and towns"
■Ehime Crowdfunding Utilization Enlightenment Seminar
■ HIS Ehime Craft Beer Tourism
<2022>
■ Ehime Prefecture "Sugo Ven." database
■Discover Japan August 2022 issue "Let's go out for a delicious summer!" Released on July 6, 2022
-Contact us for interviews and lectures-
info@japandemic.co.jp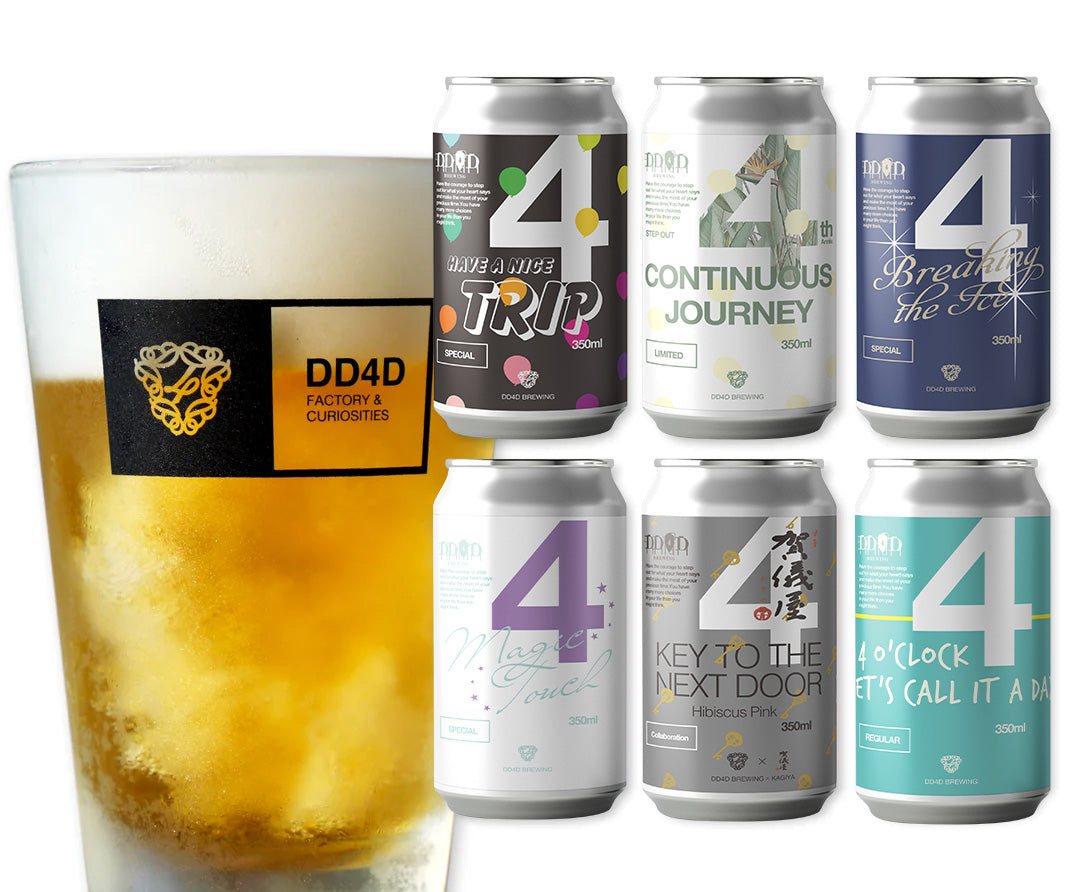 DD4D trial set
A set of 6 DD4D classic beers recommended for first-timers. You can enjoy diversity with all different beer styles. This set is easy to drink even for craft beer beginners and makes it easy to find your favorite beer.
View product